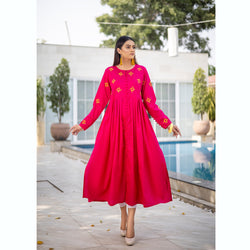 Chilgozay Clothing Co
Pink Shock (CC 367)
A smart glance is portrayed in this trendy dress. The graceful look is enriched with sewing facts and embroidery. This is ready to wear a shirt that can be paired with white or black tights or jeans. This refined costume is a must-have sort at summer affairs.

Shirt Details
Embroidered Top Body
Embroidered Sleeves
Fabric: Fine Cotton 
Colour: Shocking Pink
Delivery time is 8-10 working days.